Spring is knocking at the door and it is time to start thinking about planning your summer vacations. If you are bored with your usual travelling style, this year you can choose a different way to spend your vacations.  Try ecotourism. And the perfect country to visit is Greece.  I have selected for you the best 5 ecolodges in Greece. You will choose the one that satisfies all your travelling needs.
Our first stop is Hotel Divani, located in the natural environment of Pertouli. Guests will have the opportunity to browse through a landscape of natural beauty and deal with alternatives and outdoor activities. The area is also ideal for close or more distant trips to many interesting places. You can visit the ski center, the Church of Porta Panagia, and traditional taverns serving local meals with proper wine. This hotel is situated in a 19th century tower and offers ten traditionally decorated spacious and bright rooms. Every room has wooden furniture, bathroom, TV, central heating, fireplace, balcony and regular cleaning. The hotel facilities include easy access for people with disabilities, bar, free wi fi and parking spaces.
Mourtzanakis Residence, our second stop, welcomes you to Achlada, Crete, where you will have the opportunity to experience the traditional hospitality in a wonderful setting of peace, harmony, and amazing scenery. The surrounding area is rich in vegetation, with breathtaking landscapes and four different beaches.  In Achlada you will find the perfect place to relax, enjoy the natural beauty and the ecotourism activities available in the area.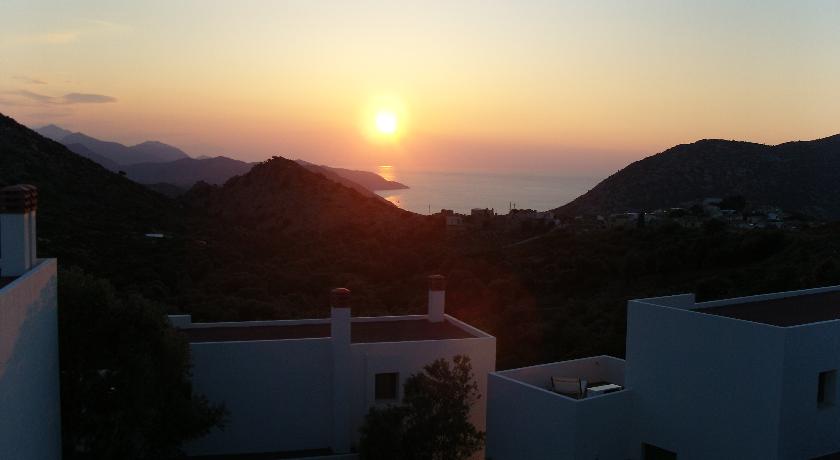 Our third stop is Naiades Hotel at Lake Plastiras, Agrafa.  This ecolodge is located In the most beautiful part of the lake and just 35 Km far from the city of Karditsa. It is a unique destination for every visitor, as it combines in perfect balance tradition with modern amenities. The hotel has taken its name by the Naiads, nymphs of lakes, rivers and springs, which remain untouched in time. In that way, this hotel retains the ultimate meaning of hospitality, seducing guests with indescribable luxury of tranquility and unique sense of intimacy and warmth. Naiades offer their guests the unique opportunity to hear sounds that may have forgotten, relax, swim, refresh themselves, exercise, play, and have fun.
Hotel "Oikoperiigitis" is, also, located near a beautiful lake. Lake Kerkini at Serres, is one of the most important wetlands in Europe and the ideal destination for bird watching. Hotel "Oikoperiigitis" is one of the most spectaculus buildings in the area of Kerkini, built with stone and wood, following the traditional architectural style of the area. Its interior is decorated with many handmade furniture and traditional objects."Oikoperiigitis" offers comfortable accommodation and pleasant stay in the spacious public areas. On cold winter nights, guests gather around fireplaces and in summer cool under the trees in the courtyard. At the restaurant you can taste a variety of coffees and snacks, drinks and light meals and homemade sweets! The hotel "Oikoperiigitis" has 12 spacious and carefully decorated rooms, which can satisfy the needs of both individual travelers and families with children.
Our last stop is Lefkada. This wonderful Greek island combines every a traveler wants and more. In a short distance from the capital, you can find Dimosari Canyon; an area with magnificent natural environment, ideal for a pleasant and invigorating hiking route. The valleys and streams of the wider region, pool their waters in Dimosari stream that crosses the plain of Nidri and ends at the sea. Theodora apartments are situated in Geni, overlooking a fantastic bay and surrounded by lush greenery. They offer clean and spacious rooms with air conditioning, TV, refrigerator, kitchenette, ceiling fan, private parking. It is the perfect place to enjoy lovely family vacations.
Greece is a paradise for nature lovers and lovers of ecotourism routes. It, also, plays a leading role in the field of sustainable development regarding tourism and accommodations. Greek wildlife has a wide variety of fauna and flora, which are protected by international and national organizations. Mountain, plains and seashores create a natural setting of incredible beauty, ideal for alternative activities. They are, just, waiting for you!