I consider hiking to be the purest form of traveling. After all, it's the oldest form of traveling, dating back millions of years to the time when our ancient ancestors first raised their backs and began walking on their legs. Hiking allows you to smell the air, feel the wind, enjoy the sunshine after a soaking rain shower,… to take in everything to its fullest extent.
When hiking – doesn't matter if it's in remote mountainous country or along a coastline – you won't be sheltered from the elements, vulnerable to biting cold wind and chilling rain, but also susceptible to comfortably warm sunrays. There's nothing like watching the sun rise over a series of hills or seeing the sun set behind a shimmering lake.
All those elements and experiences await you in northern England. It is there that the magnificent Hadrian's Wall crosses the country – it runs from modern-day Newcastle on the North Sea coast to Bowness-on-Solway on the coast of the Irish Sea, at the place where England is at its narrowest.
Hadrian's Wall was built by the Romans in the 2nd century BC by orders of Emperor Hadrian. Not only was it the northernmost border of the Roman Empire, it was also the most heavily fortified one, constructed after a series of ferocious battles with the Picts, clans who lived in Scotland at the time. So, it could be said that Hadrian's Wall was one of the first controlled borders. A milecastle was built every single Roman mile, a place where people and goods could cross the border. Some of those milecastle are still there today.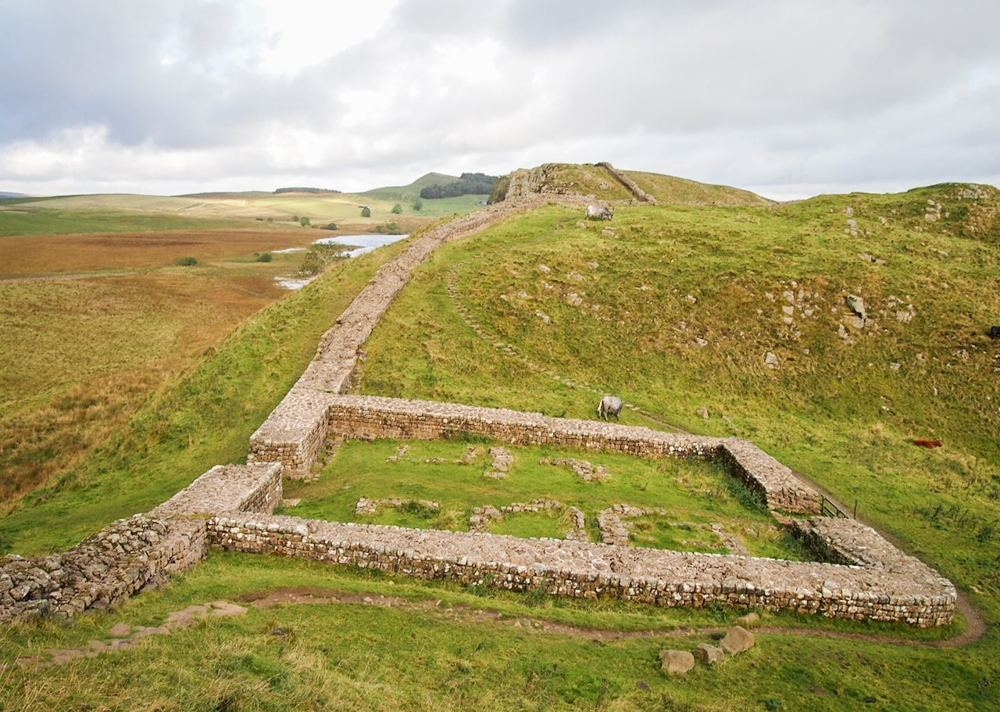 The beauty of all of this is that, nowadays, it is possible to hike the entire length of Hadrian's Wall. The Hadrian's Wall Path is 135 kilometers (84 miles) long and essentially follows the course of that ancient wall. The trail starts in Wallsend, a suburb of Newcastle, in the east and ends in Bowness-on-Solway at the Solway Firth in the west.
As can be expected from a trail crossing northern England, hiking it will involve all types of weather. It runs across some pretty remote and hilly countryside and you should expect heavy rain showers, strong winds and even some boring stretches, but also glorious sunshine, superb panoramic views and simply a wealth of fascinating history.
Although many sections of Hadrian's Wall have been removed over time – the stones were used to construct other buildings – what remains of it is a UNESCO World Heritage Site. Along the trail, there are several historic attractions, from ruins of Roman fortresses and military encampments to castles, old churches and archaeology museums. Natural features include rolling fields with sheep, bogs, patches of forests, series rocky hills and rivers – particularly the stretch that runs through Northumberland National Park is fabulous. It's a world-class hike.
You should count on six days to complete the Hadrian's Wall Path, which allows enough time to enjoy the countryside and visit some attractions on the way. For accommodation, you can use campsites at farms or stay at bed and breakfasts or inns in the surrounding towns. Make sure to book ahead, though, as there aren't too many!