Are you looking for an eco holiday in the Yucatan Peninsula, Mexico? Get away from massive hotel complexes and crowded beaches and escape to Tulum, one of the best preserved Mayan coastal sites.
South of Cancun, Tulum was previously popular with alternative travellers. While today's visitors are more fashionable, they all come for Tulum's well-earned reputation of helping people to unwind.
Despite the region growing into a major tourism destination, Tulum has managed to retain its charm and bohemian character, and giving this an eco-friendly touch.
It is in fact only recently that Tulum added major tourism infrastructures to the natural wonders which first attracted nature lovers: white sand beaches, emerald waters, and magical cenotes (natural limestone springs), in the company of sea turtles, colorful birds and other wildlife.
With time, more and more travellers fell in love with this immaculate paradise. And as the word spread along the Riviera Maya Tulum grew fast. The town centre of Tulum is now bustling with boutique hotels, unique restaurants and organic caf?s.
Tulum green practices and sustainable tourism
With its simple and genuine lifestyle, idyllic weather, soft white beaches, and fresh and tasty seafood, Tulum is a natural destination for eco-conscious travelers.
This trend caught the attention of local suppliers, but despite the influx of eco-friendly visitors, there are concerns that the area will one day be spoilt.
Tourism has been driving growth, and Mexico's Riviera Maya was the 10th most visited destination in the world in 2010.
Following this success, government policy is to build on this and become the 5th most popular sustainable tourist destination in 2018 (National Tourism Accord 2011).
This is a target of 50 million visitors, twice the number of 2010, with turnover increasing to US$40 billion, 4 times that of 2010. Achieving this requires an incredible 16.4% steady growth rate for the next 6 years. Source
Tulum is now the fastest growing town in Mexico and it faces a considerable challenge to manage this growth while keeping its unique eco charm.
Local tourism businesses and accommodation will need to work as a single integrated community sharing a common vision of a sustainable future, if it is to face the challenge of Tulum's high rate of growth.
The first step in sustainability has been made, but there are still areas needing improvement. Some of the "eco-friendly" accommodation in Tulum today run industrial generators 24/7, and dump waste into nearby cenotes, polluting the underground river systems of the Yucatan, and damaging the natural beauty which first attracted the visitors.
We all hope Tulum travelers and community will respond and transform the area into the sustainable tourism Mecca of the next decades. How? Read on for some green tips for travelers and best green accommodation practices.
Tulum green activities
One of the most precious preserved natural heritage in the area is the natural reserve of Sian Ka'an ( the "Origin of the Sky'" in the language of the Mayan peoples who once inhabited this region): 780.000 acres of pristine tropical forests, mangroves and marshes, as well as a large marine section intersected by a barrier reef. It is host to a wide variety of plants and wildlife, including over 300 species of bird, and rare turtles.
Located on the east coast of the Yucat?n peninsula, this wonderful UNESCO Natural Heritage is the perfect spot for nature lovers to bird watch, snorkel and kayak.
Tulum provides plenty of opportunity to immerse yourself in the wilderness. A particular favourite is snorkeling among the stalagmites in underground limestone cenotes. Mayans considered cenotes to be gateways to the underworld, and used them for their healing properties and occasionally for offerings to the Gods. It is easy to appreciate the power that the Mayan's felt cenote held as you snorkel alongside turtles and through bat caves.
Tulum visitors wanting to brush alongside nature will find that Casa de las Olas provides the 100% solar powered accommodation. Located on a small stretch of pristine and secluded beach, the villa is just 50m from the vast Sian Ka'an Biosphere Reserve, where you will be able to have your spiritual experience on your fingertips.
For a more relaxing holiday, Tulum is very popular for yoga, and the relaxed hippie vibe which first made it a tourist destination.
Are you feeling regenerated? So why not just head off for an ancient Mayan ruins excursion or even better, if you are a sun lover, be a beach bum and procrastinate all day long on the soft sand or in a hammock!

Tulum Accommodation, Casa de las Olas an intimate place to stay stay:
As mentioned earlier, Tulum accommodation providers are recognising the importance of green practices. Every single Eco Lodge or hotel is moving in the right direction in order to protect, improve and keep this corner of paradise in the very greenest condition possible.
A very special place, Casa de las Olas puts the environment at the heart of its activities. The beautifully understated villa is an eco pioneer. "We are proud to be one of the only actual environmentally conscious run properties on the beach" says creative director Sam Shendow and explains how extremely important it is to manage future guests expectations. The guests that best connect with Casa de las Olas are forward thinking environmentally conscious travelers.
For this reason there are important aspects that set Casa de las Olas apart from other properties on Tulum beach.
100% sustainable. Their five-suite villa is completely solar-powered, built to harvest underground water sources needed for dry season, while also having a rain collection system for all irrigation. The structure was designed so that the Caribbean breeze flows naturally through the property. The lush, mature vegetation maintained on the property is used to shade from the afternoon sun, keeping the villa cool and comfortable through its design without the use of air conditioning.
Secluded beach. Over the past 5 years, Tulum has been an international hot spot to visit due to it's incredibly beautiful, pristine beaches. This has led to it transforming from a private and relaxing oasis into a busier holiday destination. Casa de las Olas is located on the more secluded stretch of Tulum beach, so that even during the busiest season in Tulum, you can keep the sense of solitude which brought you here.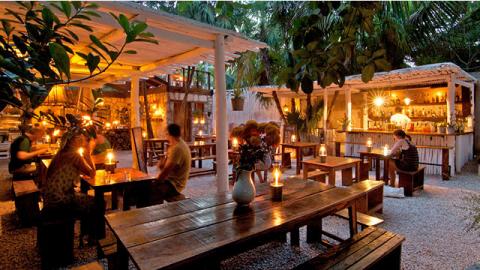 "Aside from being completely off the grid, (explain Sam) we very much advocate sustainable tourism in our area.
We've spent the past few years creating connections and fostering relationships with local like-minded businesses to provide environmentally conscious activities for our guests to enjoy (such as Sustainable Food Workshops with Hartwood Restaurant (more details here), Catamaran sailing, touring the Saian Ka'an by kayak and soon to be yoga retreats at our location, etc).
We take great pride in creating relationships with our guests and having the ability to guide them through a sustainable, low impact and highly memorable vacation!
We strongly believe that networking and team work are the real basis for a sustainable development. We had the feeling that Casa de las Olas really are at the forefront of this environmental movement to protect Tulum.
For this reason travelers and locals should join the movement, as everyone should have a positive impact on this environment for years to come.
Are you ready to go? With the incredible weather, as an eco-conscious traveler you don't even need to worry about the luggage! So no need to pack, just offset your flight as Tulum is waiting for you!
photo credit by fjmmblue and Cenote by Marc Filion