If you are travelling around Mid Wales on holiday and looking for somewhere special to visit, try The Centre for Alternative Technology (CAT) in Machynlleth. For over 30 years now they have been a shining beacon of eco improvement and education, and finally the world has caught on to their message. Since the 1970's they have been providing practical advice, demonstrations, exhibitions and knowledge about how ordinary people can lead effective, sustainable lives.
While demonstrating the latest in technological processes and green products they are equally keen to show how small changes in everyone's way of living can lead to positive benefits. CAT has the philosophy of inspiring, informing and enabling, which is precisely what the centre in the beautiful green Welsh hills achieves.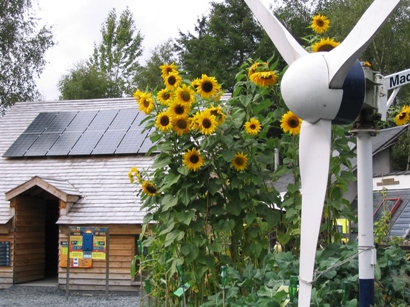 The seven-acre centre is built in the remains of an old quarry and has a bewildering array of exhibitions, interactive displays, eco gardens, adventure playground and shop/caf? to entertain visitors. At a time when green issues and sustainable living are high on the agendas of many governments, a visit to CAT will give you a wonderful opportunity to see what you can achieve when, unlike politicians, you act instead of just talk.
The centre shows practical solutions to managing water, food, composting, energy, building and transport. They cover every aspect of modern living and give an abundance of free advice and realistic suggestions to visitors. There is also a year long programme of events and activities for adults and children to allow you to get involved and understand the necessary steps better.
The area around Machynlleth is a verdant landscape, full of wooded hills, forest valleys and a natural paradise. Accommodations in the area have benefited greatly from their proximity to CAT and many operate sustainable properties and recyclable lifestyles as well, making it an ideal eco-tourist destination. From this picturesque Welsh village you can tour the surrounding area and take in such sights as Cadar Idris, Llun Tegid and the fishing village of Barmouth. There is the resplendent and lively university town of Aberystwyth nearby or the peace and tranquillity of the Llyn Peninsula.
The area is full of surprises such as the architectural folly of Port Meirion, where the sixties TV series "The Prisoner" was filmed and the marvellously restored steam trains on the Blaenau Ffestiniog Railway. Lovers of arts and crafts can visit the Corris Craft Centre, while those who thrive on the excitement of outdoor adventure can pay a visit to the Bywiol Dyfi Active Centre for abseiling, canoeing and white water rafting.
Photo by Krzysztof Nowakowski on Flikcr and CAT